Gunjan was born in North India and currently living and working in Upstate, New York. She studied MFA from Sir J.J School of Arts and BFA from Kurukshetra University.  She is a visual artist who has gained extensive experience organizing and participating workshops and residency programs. She specializes in Public and Nature Art, which she has honed through her participation in various international art programs. Her works have been exhibited in Hungary, Japan, Nepal, South Korea, Iceland, France, Italy, Lithuania, Mauritius and USA, showcasing her versatility and global perspective.
Gunjan is also actively involved in environmental and ecological causes, serving as the Treasurer of Training and Research in Environmental and Ecological Sciences (TREES). She is committed to using her art to raise awareness of important social and cultural issues, collaborating with organizations such as the GLOBAL NOMADIC ART PROJECT in collaboration with YATOO, a Korea-based art organization.
While Gunjan is trained as a painter, she is a multimedia artist who also works in sculpture, installation, film, and design. Her playful and humorous style belies the depth and thoughtfulness of her work,often asking thought-provoking questions about politics, society, cultural differences, and identity.
Gunjan's work is both visually stunning and intellectually engaging, reflecting her passion for pushing the boundaries of art and creating meaningful connections with her audience.
"Gunjan is an exceptional artist whose paintings capture the beauty and essence of the world around us. Her work is breathtaking and inspiring."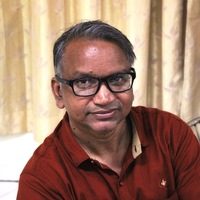 "Gunjan is an incredibly talented artist whose paintings demonstrate a commitment to excellence and attention to detail. Her work is truly remarkable and left a lasting impression on me."